March 28, have bought a used Canon 300mm L f4 IS. Again. This is the third time a buy one of these. Love and hate this lens. This is a 2015 model and looks and feel like brand new.

Here is some shots from playing around with it and get used to the long focal length again. As with all Canon L lenses this is a top quality lens.
"A photograph is usually looked at seldom looked into."
― Ansel Adams
March 23, a picture of a duck, from Fredrikstad's old town 'gamlebyen' today. Shot with my trusty Canon 5D camera.


I have now returned the Fujifilm X70. First of all because the focus points can fool you on the screen, it happened a lot when taking photos of objects near me. Looked like I had focus but it was focusing on the object behind. Took about 20 shots of this great Australian 'mad max' dog and they all turned out like this.So i'm going for a Fujifilm X100 again. Most likely a T or S. Also missed the 35mm focal lenght and optical viewfinder (OVF) from my old X100. At the moment i'm back to an old Canon S95 compact camera that I borrow. Also got bigger camera's, DSLR's of course. But for everyday use on the streets the Canon S95 will do the job nicely until a X100T or S is bought.

March 14, Went out to buy some black & white film for my Pentax camera today. Ended up with two rolls of ILFORD DELTA 100 Proffesional 36exp. The good stuff. In Norway one rolls of these cost 90 NKR, thats about $12 US Dollar.
Shot with my Fujifilm X70. Exif was F8 – ISO 320 -1/500sec – he had a small teddybear hanging on he's jacket, had to take the shot even if he saw me raising the camera.
These walks a really good for my neck and shoulders that hurts bad these days. Photography is good medicine. Picture of my old Pentax film camera and the new ILFORD film shot with Fujifilm X70.
Love this video of Gunther Holtorf

March 12, Have done about 150 shots and some video with the Fujifilm X70 so far. I like it a lot. Going to make a small review page about the Fujifilm X70. Need some more pictures worth posting, not a big fan of posting pictures of brick walls, but here is some slightly boring everyday shots for you. Hope for a good street photo day out soon. I'm not sure if I like the X70 over the X100 and X100S just yet. The Fujifilm X100 has it's advantages over the X70 in some ways. The X70 has faster autofocus and feels faster.

My Fujifilm X70, window light. Have to mention that I never have tested the Fujifilm X100T. Just X100 and X100S.
Shot with the Fujifilm X70 : 
Fujifilm X70

All shot with Fujifilm X70
Fujifilm X70

Some bokeh is possible, even if it's only equals a 28mm fullframe lens. Fujifilm X70

John Arild with he's Fujifilm X-M1 and 55-250mm. Fujifilm X70

Shot with Fujifilm X70, shadows on my floor, window light. Love the Fuji colors.

Shot with Fujifilm X70. My Klipsch Heritage loudspeakers, the Heresy III.
As with the X100 i'm using auto ISO, 1/1000 shutterspeed and f8 aperture for street. This seems to work just fine with the X70 too. Usually got ISO 320 to ISO1600 on a cloudy day as today. This is a snapshot from today. Just to show what you can excpect from the Fujifilm X70 as a street camera.
High ISO. No problem at all with Fujifilm X70. This is JPG was shot at ISO 1600 with the Fujifilm X70 and it's very good. Clean and the little grain there is looks almost as film grain. Wonderful high ISO files. You can shoot this all day long with ISO 1600 and no worries.
So far I think it's a fun camera to use. It's fast and the small size makes it easy to always carry with me. But can't help wondering if I should return it for a X100T. Have to make up my mind very soon. Every picture yet is JPG SOOC ( straight out of camera ) Have not shot a single frame RAW yet. Fujifilm has wonderful JPG's. Thank you for reading, notice I got a lot of visitors on my blog now. If you want to contact me feel free to do so about anything regarding my photography, ulfgreger2008@gmail.com.
Lots of inspiration to be found watching the old masters on youtube

March 9, got my new street camera yesterday. The Fujifilm X70. Not done more than a few test shots so far but the images looks great, far better than Ricoh GR for sure. ( Make no mistake, I loved the Ricoh GR ) It's fast focusing too, even at economy mode where I left it. The Fuji X70 is pretty heavy and has a quality feeling about it. All metal and a good rubber grip, smaller than expected. Fits nicely in all my jacket pockets. 
I think this is going to be a good little pocket camera to alway carry with me. Going to post more images and some video samples as soon as possible. So far it's very promising. My old trusty Gordy Strap has survived five pocket cameras so far.
March 8, took only this shot today.

March 4, some snow, wind and cold weather. Took an two hours walk in the city to do some street photography. My back and neck hurts like a son of a *** these days and walking is the best medicine for me. Took about ten shots in total. This is what I love about street photography. Some days you can get 10 good shots, other days nothing. This was not a good day but fun anyway. Had to use very high ISO to keep my shutterspeed up today. Here is some shots from this day. My old Gordy strap has survived five pocket cameras now. Love that camera strap.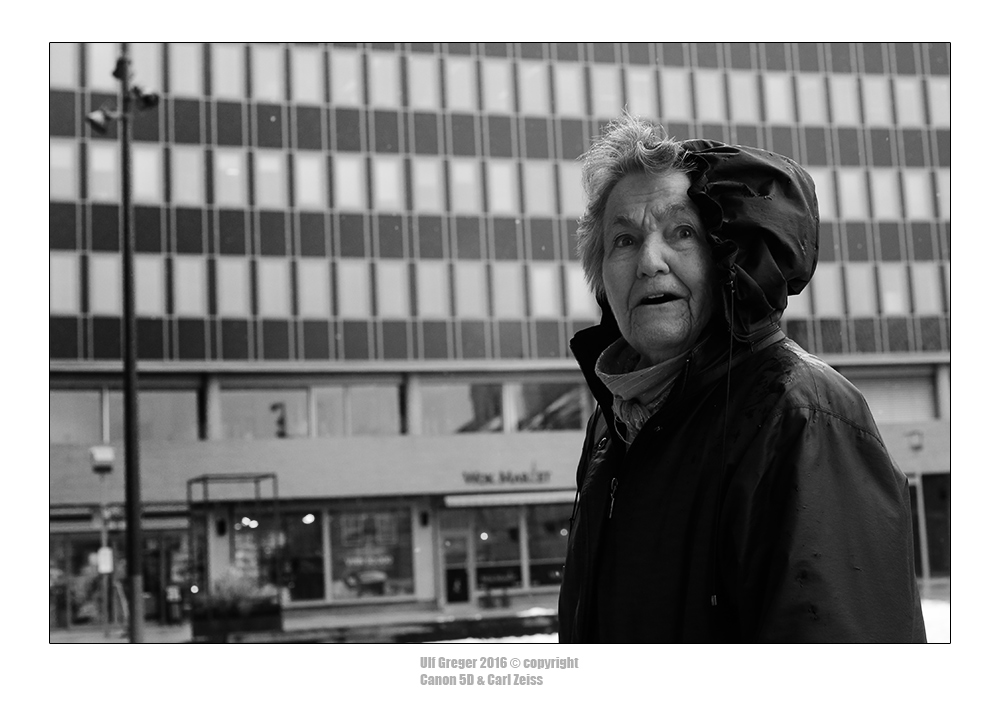 This old lady was nice talking to. She lived on a farm when she was young. Talked with her for some time.

Used my Canon 5D today. Can't wait to get my Fujifilm X70. I'm getting it wednesday March 8. Also ordered a couple of extra batterys from ebay.
March 1. Still cold and windy here in Norway. About pocket cameras I placed a order for a Fujifilm X70 instead of buying a Fujifilm X100 S or T. Not sure yet if 28mm will work. But can always buy a X100 S/T later on if I miss 35mm too much with the pocket camera. Loved the Ricoh GR so I think the 28mm wil do just fine. Anyway I have my 35mm Carl Zeiss lens for my Canon 5D when I need that focal length for more serious work..
I have maxed out my storage limit on my website. With my webhotel ISP here in Norway 1GB is the limit of their cheap webhotels. Not very much and hope they raise their storage limit to at least 2GB. So from here I will firstly delete many of my old blogpost and pictures that contains large files and just post small 1000x800px images in this format as the picture above.
Otherwise I like my website as it is. Fast and simple with lot of my own code and tagging. I'm using a laptop using Linux operating system with LAMP ( linux, apache, MySql and PhP ) to make websites with WP cms. Works like a dream and even if I make big fancy websites for others with slides and colors I like my own website to be simple and clean.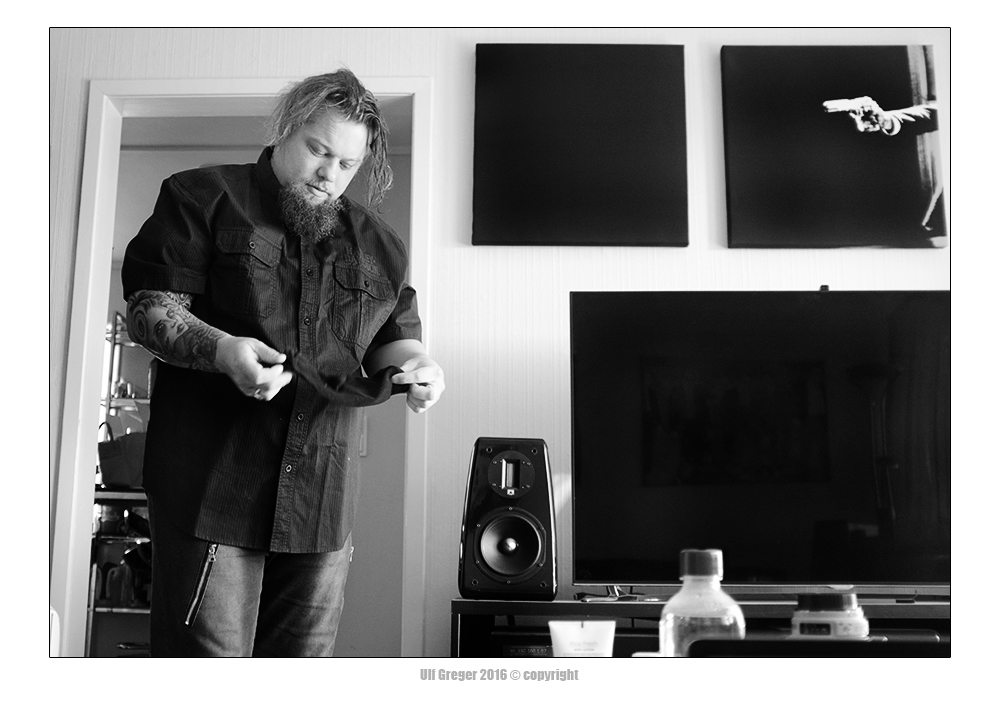 Only our true friends will ever see the irony in this picture.
All pictures is Copyright © Ulf Greger. Feel free to contact me about anything. Also seeking TFP model in Østfold, Norway.  email :  ulfgreger2008@gmail.com
Please follow me on Instagram if you want to