March 30.
Ricoh GR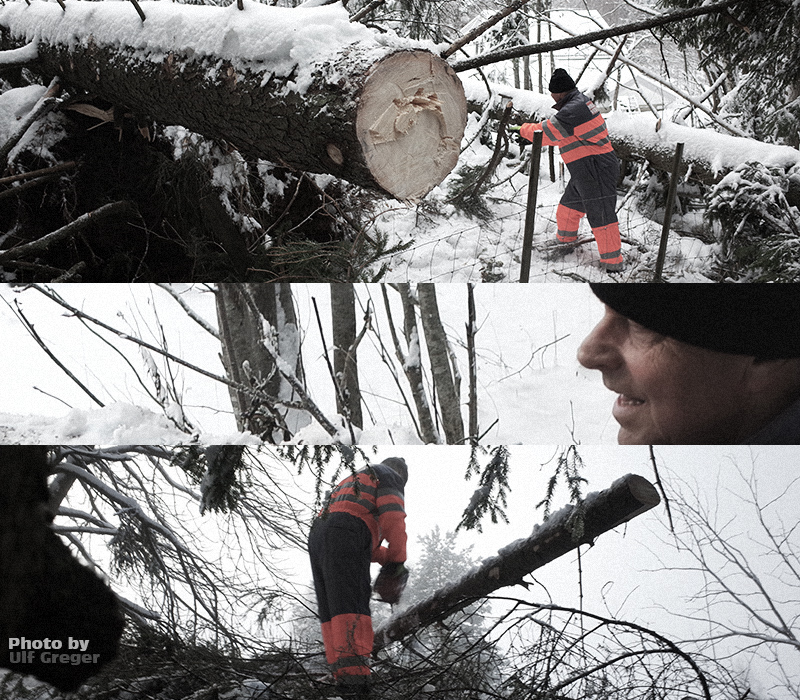 Some shots from back in 2013 when I helped my father clearing forest on he's property after a heavy storm. Ricoh GR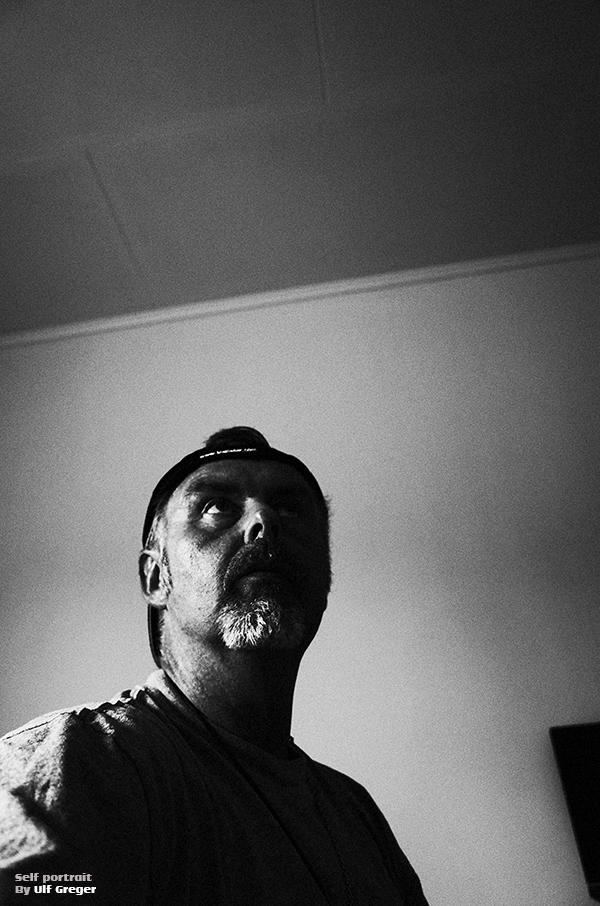 Self portrait – Ulf Greger. Actually not a selfie, was just me clicking away to test the art filters of the Ricoh GR. This was the high contrast B&W filter.
My camera bag right now. Today I'm sending my Fuji X100 away to it's new owner. This has been one of my best street cameras ever. My three Ricoh GR's I've had past fifteen years or so comes close or was better in some areas. Anyway time for a new 'my streetphoto to go bag' picture. Last one with my Fujifilm camera.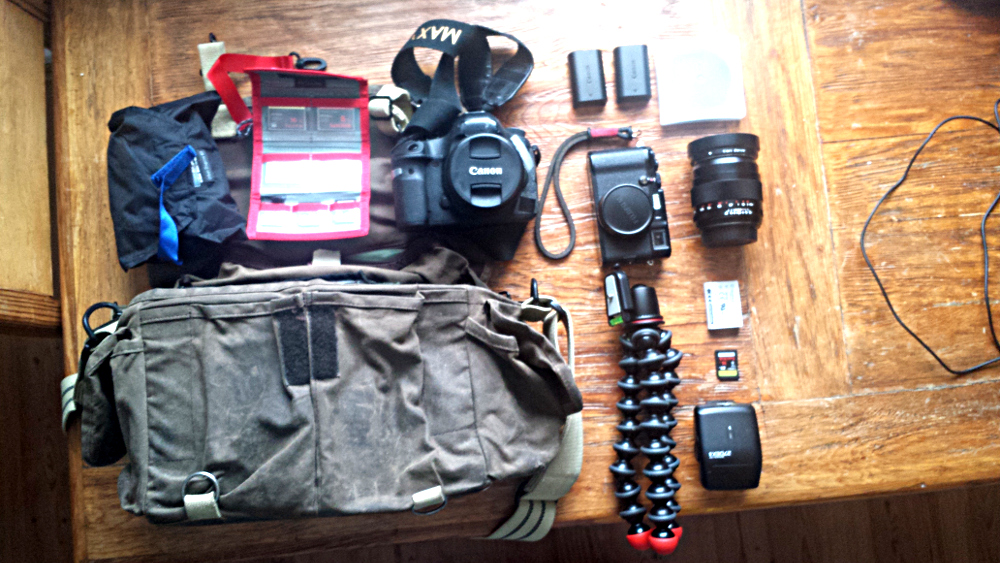 My bag is my solid Domke F2. It's waxed and pretty waterproof. From left upper corner :
ThinkTank waterproof bag cover, use this in heavy snow and rain.
ThinkTank waterproof memory card holder with some CF and SD cards.
Canon 5D with some duct tape to mask the logo's and a 80's old worn camera strap.
Two extra Canon batteries. I dont use the LCD screen much so get about 1400 shots each.
ND filters.
Fujifilm X100 Black Edition .
Carl Zeiss 2/35 T* Distagon ZE. Easy my best lens for Canon.
Gordy Strap.
A gorillapod tripod. This actually carries my 5D with Zeiss 35mm.
Extra Fujifilm batteries.
Canon 270 EX external flash. Low weight and a solid flash.
So this was by street bag March 27. Also have a small ThinkTank bag for ultralight travel ( Canon 5D / Zeiss 35mm only ) and a big bag for outdoors portraits with all my big speedlights, gels, portrait lenses and radio triggers. This Domke bag is what I use 80% of the time. Sorry about low quality picture of the bag and gear. Had to shoot it with my Samsung phone. Going to add a better picture shot with my 5D soon. Obviously that shot are not showing my 5D 🙂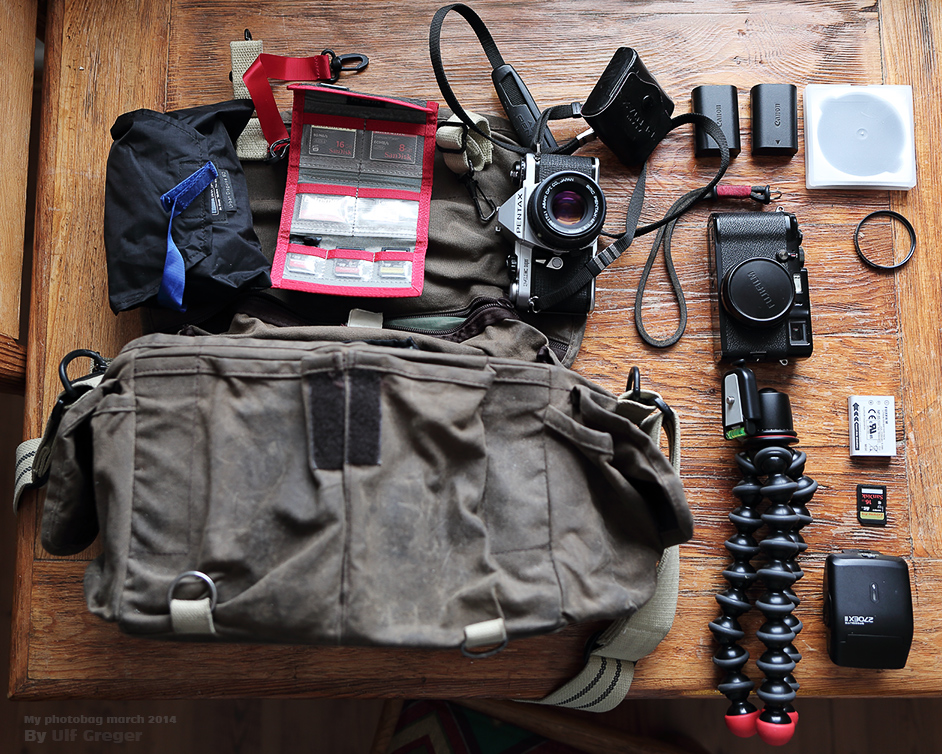 Here is the shot with the 5D. My Pentax ME film camera replaced the 5D spot for this shot.
Street photography…..or a really bad dog portrait. Canon 5D
March 20,  there was a solar eclipse today. Handheld shot just to have done it. Canon EF 35mm f/2 IS USM, f 11 1/4000 and ND filter.
March 12. Bought a new lens today. The Canon EF 35mm f/2 IS USM. I already have a wonderful 35mm for full frame, my Carl Zeiss Distagon 2/35 ZE.
Main purpose for my new 35mm is street photography and some video work where IS and AF is nice to have sometimes.
This was my first street shot with Canon EF 35mm f/2 IS USM. Think this was a cool shot with lots of detail.
Autofocus is very quick and I think this lens performs very well. Also going to publish some videos to show just how good the IS performs and do a small review of this lens. I noticed some improvement with IS on with handheld video on the 5D mk III. If you own a crop sensor Canon camera, the IS are going to help even more with video.
One of my first shot with Canon EF 35mm f/2 IS USM. Had to test it before buying at my local camera store, Japan Photo in Fredrikstad. Exif is :  1/250 sec – f4,5 -ISO 640 – Exposure Compensation +2/3. I usually always do some PP in PS or LR but this is from RAW file straight from Canon DPP 4.
The IS and AF felt good, image quality great so a brand new Canon lens was bought. I usually only buy used gear but I felt is was time for a brand new 35 in my bag. This lens feels sharper than the Canon 35mm 1.4 L. The 35 2.0 IS USM looks sharper throughout the frame than the 1.4L at f2. At f4, on both lenses they are equal sharpness I think but the CA was worse on the 1.4L. I have not compared them side by side, sold my 35L a long time ago. But looking at old shots the Canon EF 35mm f/2 IS USM feels sharper. Also smaller, lighter weight and faster to focus. The Zeiss Distagon 2/35 ZE has a slight advantage in image quality I think so far. Better bokeh for sure. For pros and cons on the 35mm focal lenght with Canon the Canon 35 L do have f1,4 and the Zeiss 35 dont have AF. I think 35mm f/2 IS is the best everyday use lens if you love 35mm on your fullframe Canon camera.
I think it is justifiable for me to have both Zeiss 2/35 and Canon 35 f2 IS, as they present images differently and offer a different user experience. I love to use 35mm on FF and use that focal length very much for street photography. For portraits I think 85mm-135mm works best. The only downside so far with my Canon 35 f2 IS is that I wish it was faster. f1,8 would have been perfect.
Forgot about the Sigma 35mm 1,4 Art. Have owned this lens twice. AF problems and other problems with it. The Sigma 35 not a lens for me. I only use gear I can trust 100%.

Another shot from the camera store. Canon EF 35mm f/2 IS USM. Performs good wide open. At f2,8 this lens is razor sharp. Have got some emails with complaints about no exif data in my pictures. From now on full exif in every published picture that is about gear review.

A bokeh shot when getting home. Canon EF 35mm f/2 IS USM.
Night skies test with Canon EF 35mm f/2 IS USM. I actually dont know anything about shooting stars at night so…high ISO, tripod and about 15 sec was a wild guess. Going to read about it and give a better try at a nice location by the sea not far from my house.
Hanheld shot in my car. One thing I like about the Canon EF 35mm f/2 IS USM is that it focuses really close. This was about 20 centimeters I think.
Handheld test shot with poor lighting. The Image Stabilizer i damn good. Canon EF 35mm f/2 IS USM. With the Canon 5D mk III the autofocus is reliable and fast in low light. This is going to be great for low light street photography.

A street photo shot outside the camera store before buying the 35 IS. Shot with a borrowed Canon 50mm 1.8 II. A lens I like very much.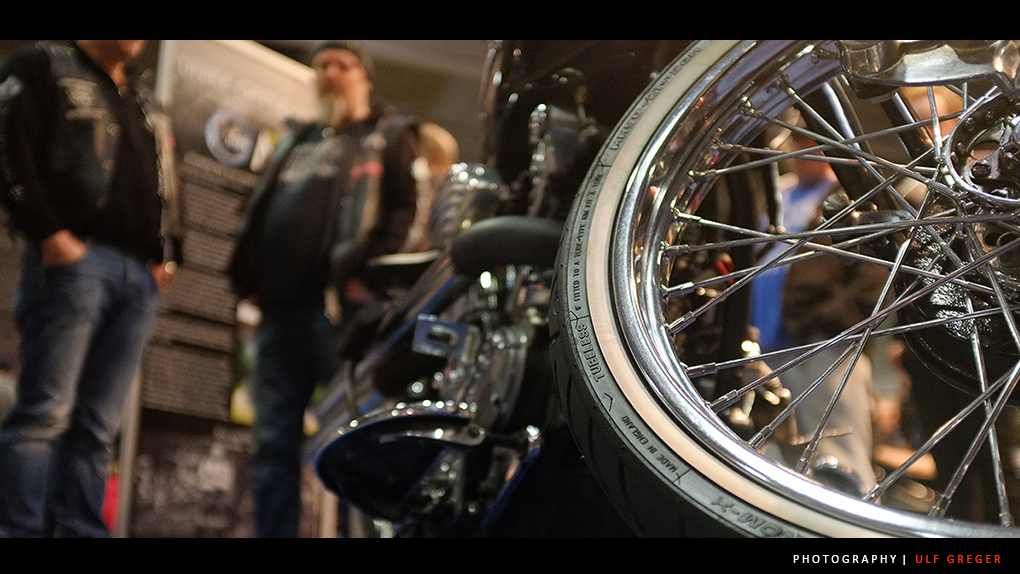 March 7. Motorcycle exhibition in Lillestrøm, Norway. Fuji X100.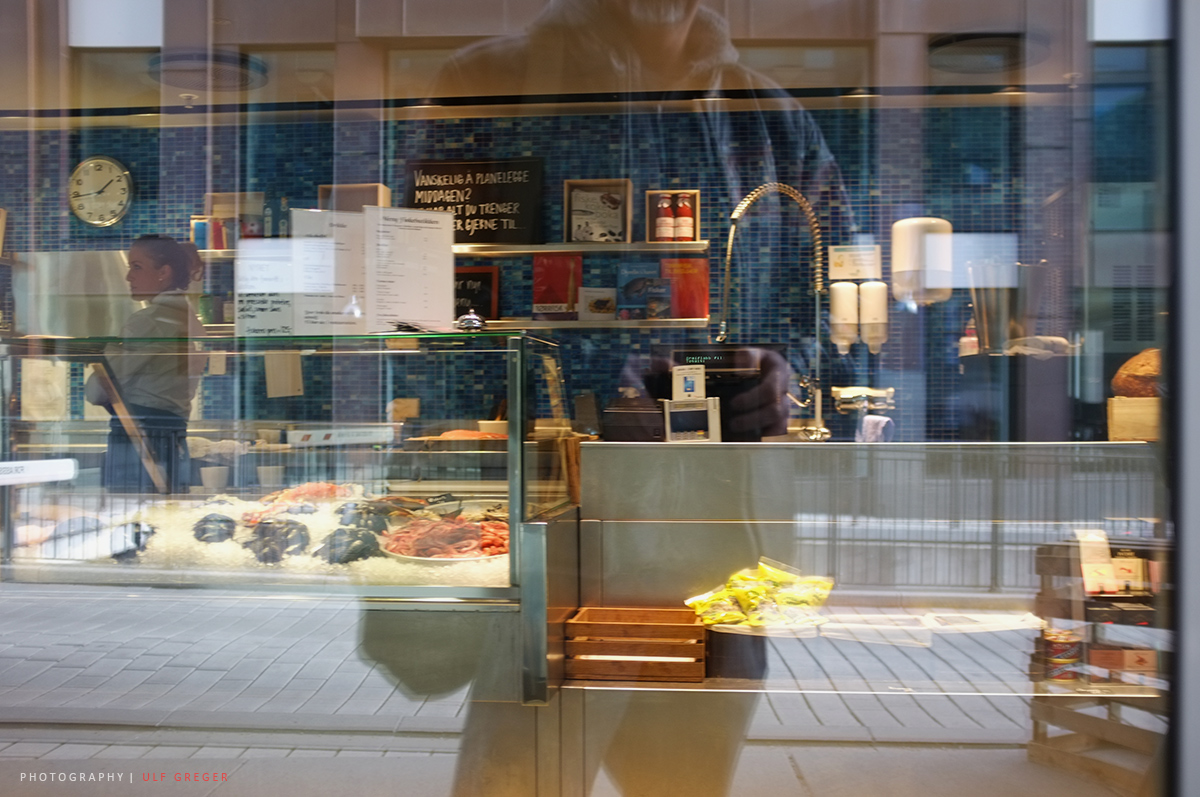 Reflection of me in a window at Aker Brygge, Oslo. Fuji X100.

Aker Brygge, Oslo. Fuji X100.

Shot at a motorcycle exhibition March 7 in Lillestrøm, Norway. Fuji X100.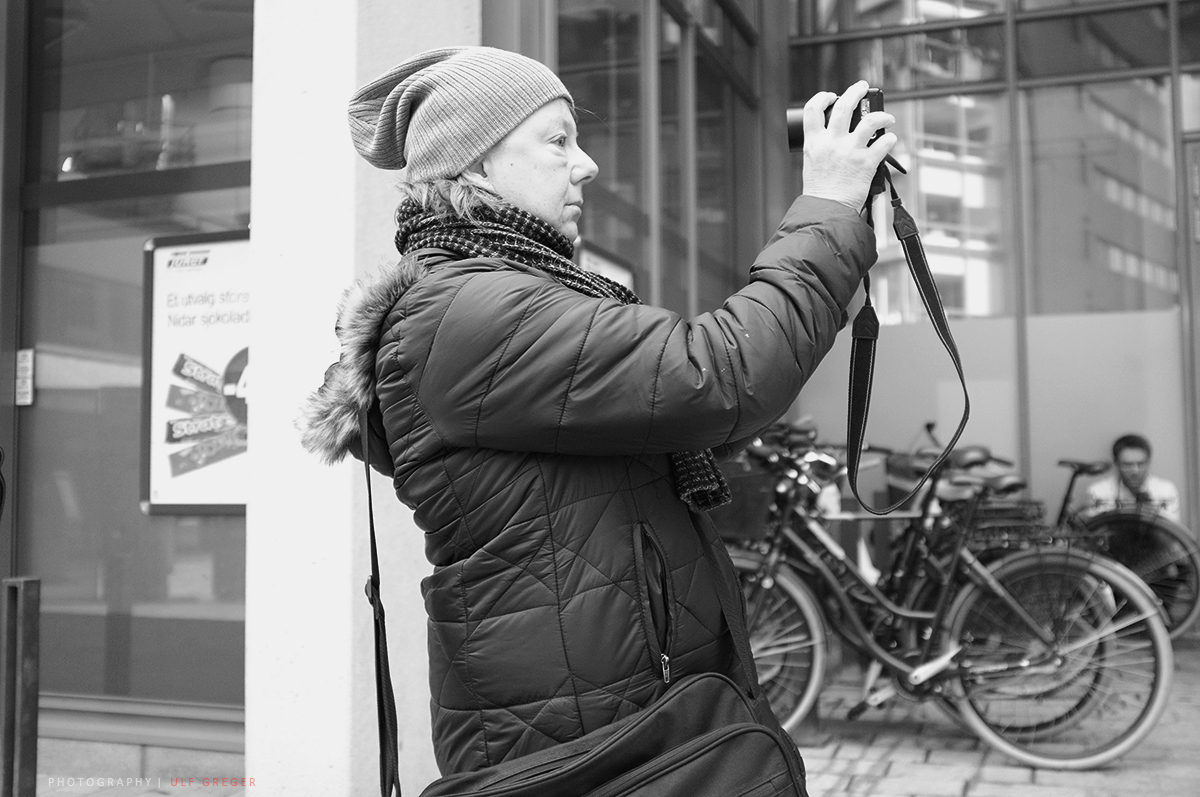 From Oslo. It's selfie time. Fuji X100.

Fredrikstad city. Fuji X100.

Fredrikstad, old town. Fuji X100.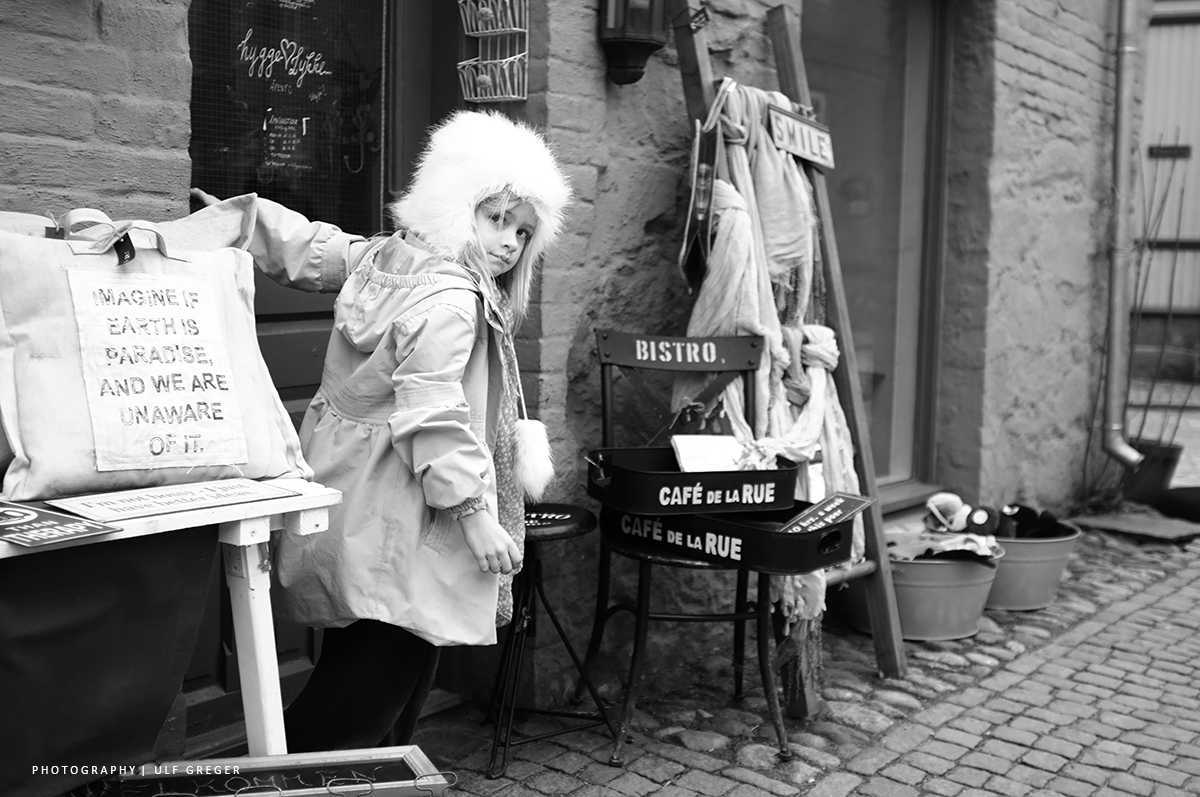 Fredrikstad, old town, Fuji X100.
Ann Karin – b&w edit.
I use my Canon dslr with Zeiss/Canon 35mm a lot for street photography also. But these last weeks I have almost only used the Fuji camera. It's a good realible camera even in cold weather.

Shot at a motorcycle exhibition March 7 in Lillestrøm, Norway. Canon 5D.

This one was shot for use in a instagram competition – I'm hoping to win a GoPro camera…well my hopes are not that high after looking twice at this picture 🙂 Samsung S4.
I'm currently working on getting a 'old film look' that's my own…here is my four latest attempts. All made from my own recent photographs. I'm not happy yet but I'm learning more every time.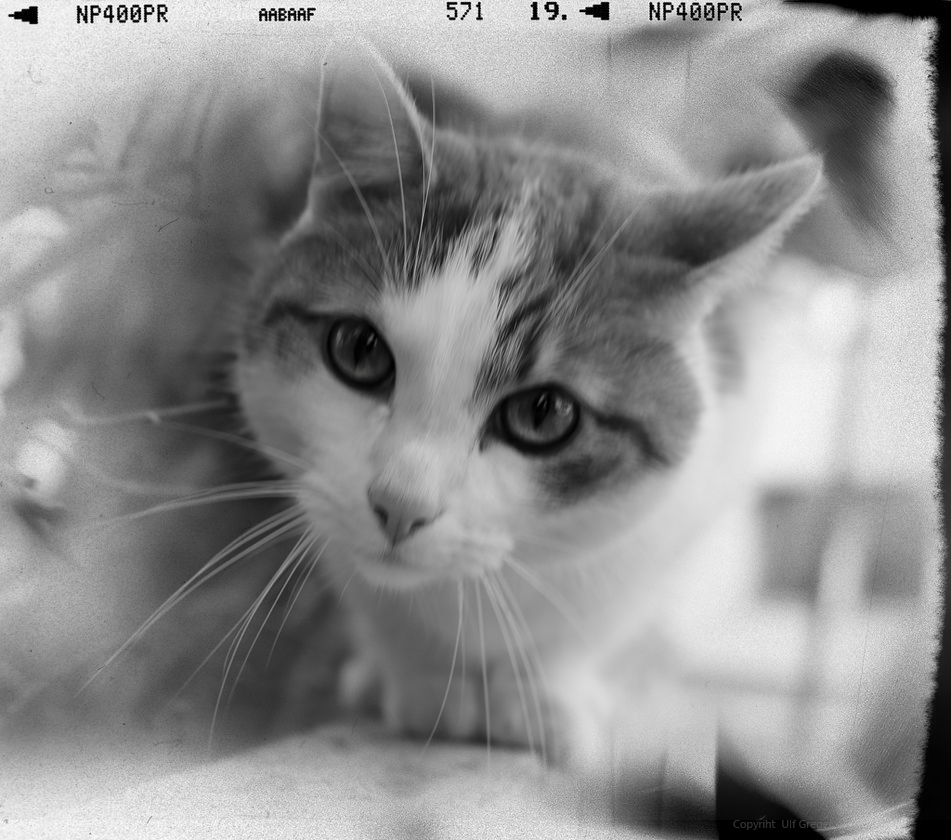 All pictures is Copyright © Ulf Greger
My email :  ulfgreger2008@gmail.com